Raw Sport mass gainer is a Dairy Free, Soy Free and Non GMO, is a high calorie protein sports nutrition formula. Smash your desired goals with our professionally formulated complete muscle mass blend of carbohydrates, creatine, L-glutamine and amino acids.  
How To Use Mix One serving (3 scoops) with 400ml of water or oat, hemp or coconut milk in a raw sport protein shaker. Alternatively add one serving to a smoothie and blend well. When To Use Raw Sport 30 minutes after training for maximum muscle recovery. Use one serving, (3 scoops) for best results. Consume 45-60 minutes before bedtime to help weight gain and optimal muscle repair throughout the night. It can also be used effectively pre work out as a fuel source. Take three scoops 60-120 minutes prior to exercise for best results. Can be used as a meal replacement supplement, Take one serving at breakfast or lunch.

NUTRITIONAL INFORMATION :
Per Serving



Per 100g


Per 125g


ENERGY





1618kj / 383kcal


2022kj / 480kcal


PROTEIN





37g


46g


FAT

OF WHICH SATURATES





6.3g

2g


7.9g

2.5g


CARBOHYDRATES

OF WHICH SUGARS





46g

0.7g


58g

0.9g


SALT




0.49g


0.62g











BIO-FERMENTED PEA + QUINOA PROTEIN + ULTRA FINE GLUTEN FREE OATS + PLANT BASED BCAA COMPLEX + CREATINE MONOHYDRATE + CACAO POWDER + L GLUTAMINE + COCONUT WATER POWDER + GREY SEA SALT + KONJAC FIBRE + NATURAL FLAVOUR + STEVIA EXTRACT + GINGER EXTRACT + PEPPERMINT LEAF + PAPAYA EXTRACT + FENNEL SEED
INFORMED SPORT APPROVED
Raw Sports Mass Gainer is certified under the Informed Sport banner. Informed Sport is a quality assurance programme for sports nutrition products. Products that are informed sport certified have been screened for substances banned in sport by the world-anti-doping agency (WADA) Raw Sport currently has an extensive list of professional athletes and sports clubs that regularly use the products. We support many professional bodybuilders that compete in the BMBF natural bodybuilding championships. We supply over 100 professional footballers throughout the leagues and have trade accounts set up with Manchester City, Watford, Wolverhampton Wanderers and Forest Green Rovers. We are popular in the world of boxing, with many professionals using the products and achieving tremendous results.

EXPLORE OF THE BENEFITS OF REPAIR MASS GAINER
Raw Sport Mass gainer is a vegan friendly mass gainer that packs a massive 480 calories and 46grams of protein per servings. Designed for the health conscious sports enthusiast, Raw sport mass gainer is a unique low fat, high protein and carbohydrate blend with added Creatine, L-glutamine, BCAA's, coconut water and digestive enzymes. Designed to optimise athletic performance and recovery, repair mass gainer is the only completely gluten, dairy, and soya free product on the market. The product uses the finest ingredients and is free from artificial additives and is sugar free and GMO free. Our Mass gainer is a multifunctional product. It can be used as a high calorie, protein supplement for athletes that want to maintain or increase muscle mass. People that have a fast metabolism and struggle to gain weight but still want to support muscle mass will benefit from using raw sports mass gainer. You don't even have to work out to use our product. Each shake can be made easily within 2 minutes, making it a balanced nutritious meal replacement that can be used by people that need an 'on-the-go' healthy shake.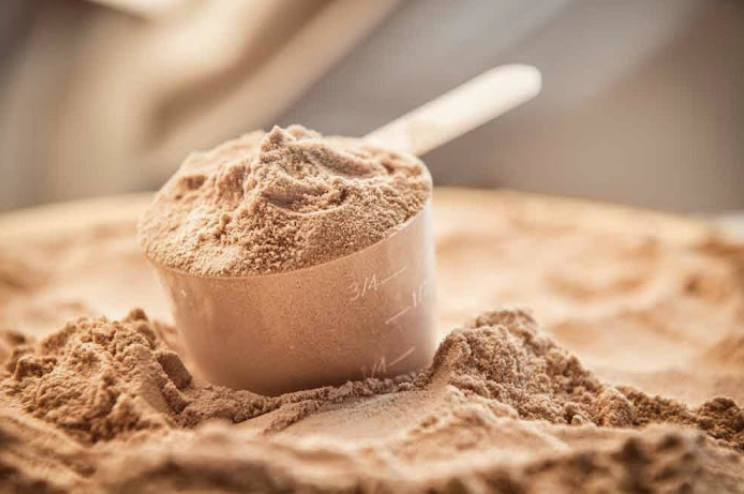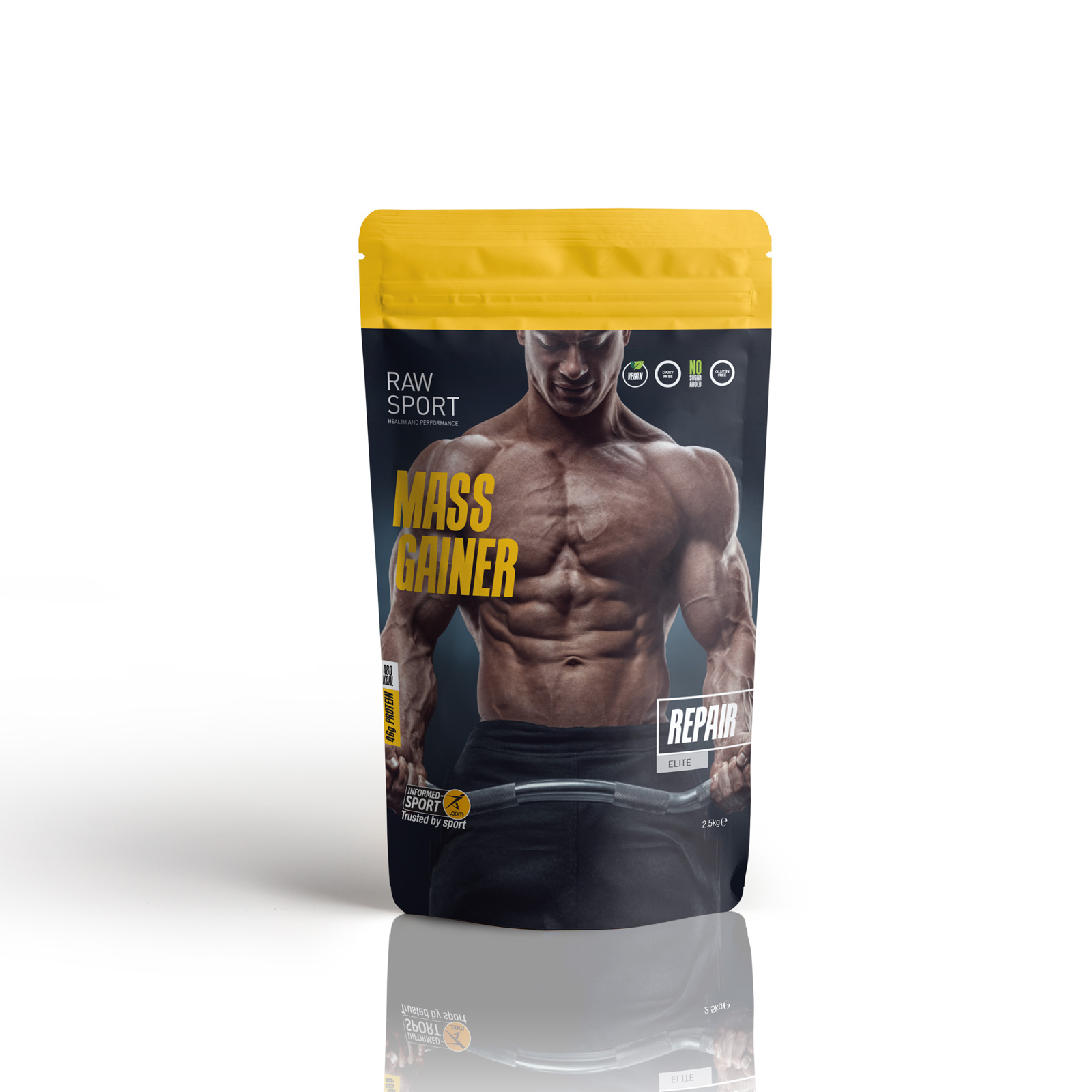 WHY TAKE RAW SPORT MASS GAINER?
The compilation of ingredients selected for raw sport repair mass gainer work in synergy to optimise muscle mass, performance, weight gain and recovery. Each 125 grams serving provides 58 grams of slow releasing carbohydrates derived from gluten free oats. A time released supply of carbohydrates supports faster recovery of muscle and replenishes skeletal muscle glycogen stores that are depleted after intense exercise. Every serving contains a huge 46 grams of protein. Bio fermented pea protein and the BCAA amino acids leucine, iso leucine and valine in a 2:1:1 ratio is added to activate protein synthesis, contributing towards optimal recovery and muscle mass. In addition, 5 grams of L-Glutamine per serving is added to prevent muscle breakdown. L-glutamine is a non-essential amino acid that is stored in muscles and released during intense physical exertion and high intensity. Glutamine improves immune system functioning. A depletion of glutamine can suppress the immune system during intense physical training. 5 grams of creatine is added to boost athletic performance. Creatine helps to regenerate a molecule called adenosine triphosphate (ATP), your body's main source of energy. Supplementing creatine enhances the body's capacity to work at high intensity, enabling increased muscle size and performance gains. Creatine has also shown to enhance muscle recovery, improve anaerobic capacity and improve brain function. Coconut water powder and grey sea salt are excellent additions to help replenish lost electrolytes from physical exercise. Every ingredient can be fully digested and absorbed with the addition of a 4-strain plant based digestive enzyme complex.